Atmosphere Audio Video has more than 20 years of experience installing Home Theaters. We design custom solutions and truly enjoy challenging work. Our in-depth knowledge of acoustical, electronic and loudspeaker design allows us to design and build beautiful sound environments in any space.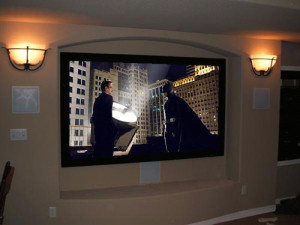 During the initial design stages for your new home system, you will be asked what you enjoy, and how you would like it integrated into the space you have available. With your budget in mind, we will select components that best fit your home. Because we don't stock any components, we sell to the customer's needs, not to our inventory's needs. We are very familiar with all makes and models and their inherent qualities.
Our work is always done quickly and efficiently, but with attention to detail. Our installations always include hiding all cables for a clean, neat, professional look. All components will be connected and expertly configured for the optimal theater experience.
Atmosphere Audio Video is solidly committed to a quality product. We are often hired to fix previous installations that are giving customers headaches. Our own installations ensure long-term reliability and we always provide good service. Our solutions are seamless in functionality, reliable, easy to use, and feature the elements that best fit your individual needs.