Atmosphere Audio Video got its start designing custom loudspeakers nearly 35 years ago in "Dad's Garage". We've come a long way from the days of trying to build the first pair of enclosures with a skill saw and screw gun.
Now we do most of the design work on computers, utilizing high tech data collection to confirm specifications on each and every element that goes into our custom designs. We take the design process one step further making our custom speakers some of the best available. We design them in your room.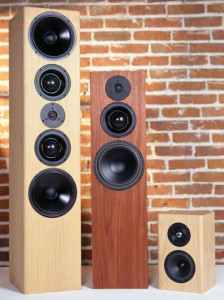 All manufactured speakers have to make an educated guess as to how a speaker's design will work in a room. By matching the speakers in your space we can design the speaker's output to the acoustic signature of the room itself. The result is smooth clear sound across the entire audio spectrum. Our custom work doesn't just apply to the speakers themselves. We can blend the speakers into any décor, literally making the speakers disappear into the design space. We truly believe that a home should feel like a home, not a dusty old stereo shop.