The Farmhouse
July 31, 2015
The Farm House at Breckenridge Brewery just opened and Atmosphere Audio Video is proud to be a partner in this project. From the early days of construction through the grand opening and even now we continue to work closely with the Breckenridge design team to create reliable solutions and systems to fit their everyday audio/ video needs.
The Farm House is located along the South Platte River and is a huge lodge themed restaurant / tap-house built on the location of the new brewery and distribution center for the Breckenridge Brewery. This spacious restaurant has a farm style inspired menu using as many local ingredients as possible. Located in the center of the restaurant is their huge multi-tap bar featuring a varied selection of Breckenridge beers as well as dozens of other local beers.
Our responsibility in this project was to take this very large restaurant / tap-house space and design and produce an innovative and intuitive audio/ video system which would include both multiple audio and video zones. Each of these zones is separate from one another and can play their own audio or be combined with each other and grouped as a whole.  A staff member can grab an iPad and easily select what music is to be played, define where the music will be played and its volume. Having multiple zones allows for one song to play in the restaurant say Toni Bennett, while out in the sunny beer garden Jimmy Buffett's "Cheeseburger in Paradise" cranks away.
To fill the large restaurant space with consistent  high quality sound we turned to the JBL Control Curve. These JBLs speakers come in quarter round sections and were a perfect fit for this application and installation. We assembled  two JBL Control Curves together to form a half circle. These half circles were then mounted to the bottom of large wooden beams located in each of the zones where we wished to distribute audio. The JBL Control Curve has exceptional sound, performance and reliability.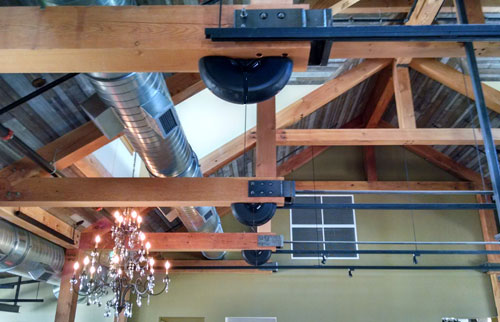 Outside we had two separate areas we wanted to cover with sound. The first is the outside siting area of the restaurant which is an open air screened in porch wrapping around the backside of the restaurant.  For this area we used eight smaller JBL Control 25s to fill this area with sound. The second  area outside that needed to audio was the expansive beer garden . Here we used the larger JBL Control 28s to maximize the sound quality and distribution. All system zones working  in groups or as a whole function reliably and sound amazing.
On the video side of things two 55 inch televisions and one 70 inch tv located in the bar area are also controlled through this same system. As with audio control, staff members have complete control over the audio and video for each television. Making sure no one has an excuse for missing the big game.
We also installed a projector in one of the custom made light fixtures and mounted a full drop down projection screen. Locating and setting the projector was a simple task for us. Our true abilities shined when it came to mounting the projection screen.  The specs called for the screen housing to be mounted to a beam which was 20 feet off the ground located above a huge stone fireplace.  The screen itself was custom ordered and built to have a 12 foot drop. With a bit of ingenuity and some good old fashioned elbow grease we safely secured the screen to beam. The final result is a large scale video system that doesn't intrude on the design-scape.